Hotel Lenhart
Honduras Friend - Benny Andrade
During the year the Johnston family supports the St. Timothy Luthern Church of Bemus Point in their foreign misson to Honduras. John and Deb Johnston have participated by traveling with the mission to Honduras the last three years. The mission supports the work of the Centro Christiano Church of Gerizm in the funding of an orphange in the village of Villa de San Fransisco. While in Honduras we build and repair the facilities of orphange, provide recreation for the boys of the orphange, support to local families, and medical help for village residents.
We are fortunate in the summer of 2004 to have a young man, who assited us in translating, visit us in Bemus Point. His name is Benny Andrade and will be with us for a month. During his visit hope to let me see some of the best of American. He wants to see a professional baseball game, Niagara Falls, boating on Chautauqua, and much more.
Benny's interests include Christian Rock Music, he is the leader, singer and guitar player, and while hear we will take him to a Christian Rock Festival and introduce him to music professionals.
If you are at the hotel and want to practice your spanish or hear some great guitar playing stop in and say Hola to Benny.
Click here for Benny's Picture Album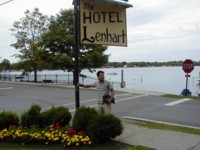 On holiday in Bemus Point at the Hotel Lenhart on Chautauqua Lake, New York.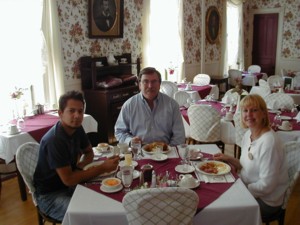 Breakfast at the Hotel Lenhart with John and Deb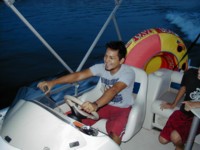 Boating on Chautauqua Lake.
Relaxing at the Hotel Lenhart.

Benny with Leslie and Peanut
Benny at Erie Speedway.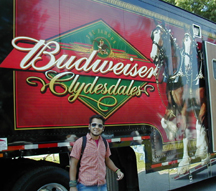 Benny with the famous Budweiser Clydesdales in Bemus Point
Benny having a "really" good time.
Benny went to Pittsburgh:
Interview with A-F Records.
Lunch at Primanti Bros.
Coaching cheerleaders, lucky guy.
An American hair cut.
Benny down on the farm.
Benny at Niagara Falls